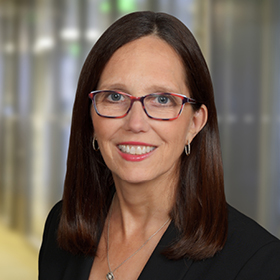 Vicky Gregorcyk
National Practice Leader – Risk Advisory Services
CPA
Executive Summary
Vicky is the National Practice Leader of the firm's Risk Advisory Services practice. In addition, she serves on the BDO Global Steering Committee for Risk Advisory Services.

As a results-oriented executive, Vicky has worked with U.S. Risk Advisory Services leaders to deliver best-in-class client service. She has more than 30 years of experience in delivering internal audit, Sarbanes-Oxley, IPO Readiness, compliance and advisory solutions for Fortune 500 and middle market companies. Vicky has designed internal audit departments, identified control and efficiency issues, and recommended alternative solutions to executive management and audit committees. She has also directed client responsibilities for a variety of clients including public companies in the U.S. and clients on foreign exchanges.

Vicky assists clients in assessing the health of their organization using a framework that includes strategy, leadership, people, processes, and results. Her clients have crossed multiple industries, including manufacturing and distribution, natural resources, consumer products and private equity.
American Institute of Certified Public Accountants
Texas Institute of Internal Auditors
Institute of Internal Auditors
Information Systems Audit and Control Association
B.B.A., Accounting/Finance, Lamar University