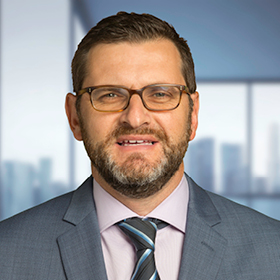 Steven Shill
Assurance Market Managing Partner
CPA
Executive Summary
Steven has more than 25 years of public accounting experience with two global accounting firms serving publicly and privately held companies including nonprofit in the healthcare, finance, and insurance industries. He has also spent a number of years working in private industry in a senior management role at an actuarial and risk management consulting unit for a multi-national publicly traded banking and insurance company.

Steven has extensive experience serving healthcare organizations including hospitals, nursing homes, medical/health insurance plans, HMOs, physician groups, dental organizations and other related areas, such as drug testing, pharmaceutical companies, medical device, and behavioral health providers. Steven's services to healthcare organizations include assurance services, risk assessments, financial feasibility, internal control reviews and various other advisory services such as litigation support. His role in litigation support has included serving as an expert on the Medicare Advantage Program. Steven also has restructuring experience and has provided assurance services to healthcare organizations in bankruptcy or conservatorship. Steven services private equity and venture capital sponsored healthcare clients throughout the USA and has developed a significant niche in this sector for BDO USA and more recently globally. Steven has performed financial feasibility studies for over $1 billion in debt financings and has provided assurance services to a significant number of clients in connection with IPOs, secondary offerings and high yield bond transactions.

Steven routinely presents on healthcare topics at various forums nationally in the US including various series on Audit and Accounting Risks for the Healthcare Industry, Healthcare Reform, Healthcare Fraud, "Repeal and Replace" and Investment in the Healthcare Sector. Steven has been a guest speaker at the US Healthcare Financial Management national meeting and regularly contributes to local, regional, and national events. Steven has also been published by the Turnaround Management Association's (a global organization focused on restructuring) periodical called the Journal for Corporate Renewal, where his article Reengineering the Turnaround Process for Healthcare Organizations was featured as the headline article. Steven's thought leadership has been quoted in national periodicals such as Healthleaders, CFO Magazine, McKnights, HealthDive and other publications focused on healthcare.

In his current role as national lead healthcare assurance partner, Steven has worked with BDO offices throughout the country. He also cooperates globally with many of BDO's member firms. Steven has participated on a client services team providing audit services to clients who operate hospitals in several cities in China and has also collaborated with BDO offices in the UK, Netherlands, The Nordic Countries, Ireland, Canada, Hong Kong, Germany, Qatar, Brazil, Argentina and Grand Cayman on various programs and initiatives in the global healthcare sector. Steven represents BDO USA on BDO International's Public Sector Practice Steering Committee, which is comprised of the healthcare, education and local and central government practices at BDO offices in NA, LATAM,EMEA and APAC.
American Institute of Certified Public Accountants (AICPA)
California Society of Certified Public Accountants (CalCPA)
Chartered Accountant, South Africa
Healthcare Financial Management Association (HFMA)
Post-Graduate Honors Degree, Accounting Science, University of South Africa

B.S., Commerce, University of Witwatersrand, South Africa