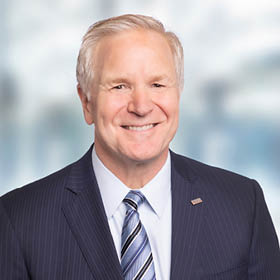 Stephen Ferrara
Chief Operating Officer
CPA
Executive Summary
Steve has been the firm's chief operating officer (COO) since 2012. As the firm's COO, Steve has overseen every aspect of the firm's business and is a member of the firm's Executive management team where he works closely with other members of the firm's Executive management team to develop strategy and set the direction for the firm's future sustainability, growth and profitability.
Steve is responsible for executing the firm's merger and acquisition (M&A) strategy, including analysis and recommendations for the establishment of new offices and practice expansion, applying his extensive experience and knowledge to form new ideas, concepts and methods to help drive the firm forward. He provides leadership by directing and coordinating all aspects of the M&A process. In his role, Steve has overseen approximately 50 merger transactions.
Steve is currently responsible for oversight of many of the firm's operational business units, including Wealth Management, Finance, IT, the Alliance program and Administrative Operations. He also directs the development and implementation of the firm's national strategies and initiatives related to innovation and industry group programs. In addition, Steve oversees the firm's international liaison program to ensure close collaboration with the BDO global network and participates on the network's Global Board Advisory Group to help set strategy and direction for the BDO Global Network.
Steve has more than 35 years of diversified business experience working in both public accounting and in industry. Steve has used this experience to help him in executing his responsibilities as the firm's COO.
This experience includes working with a variety of public and privately held clients, ranging from emerging businesses to international conglomerates, and coordinating relationships and annual audit, tax, and Securities and Exchange Commission (SEC) compliance services for a number of entrepreneurial businesses.
Steve has served as an advisor for companies on merger, acquisition and divestiture transactions, including deal structuring, resolution of accounting issues, due diligence procedures and post transaction integration issues. He has also worked directly with many public companies, offering assistance with initial public offerings (IPOs) - including equity offerings, debt offerings, split-offs and reverse mergers into existing public companies - secondary offerings, and other modes of raising capital.
American Institute of Certified Public Accountants
Illinois Certified Public Accountants Society
B.S., Accounting, Northern Illinois University
Chicagoland Chamber of Commerce, Board member, Executive Committee Member, and Immediate Past Board Chair
Commercial Club of Chicago
Economic Club of Chicago
Illinois Certified Public Accountants Society, Board member
Northern Illinois University Business School Advisory Board
Young Presidents Organization Gold, Chicago chapter, Board member