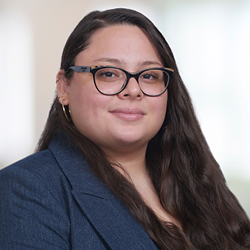 Scarleth Guzman Pineda
People & Culture Recruiter
Executive Summary
Scarleth was born in Honduras and migrated to Columbia, Maryland when she was 7 years old. She graduated with a dual degree in accounting and supply chain management from University of Maryland College Park. Her interview tip is, "Do research on the firm you are interviewing with. Be prepared with answers to behavioral questions and make sure you send a follow-up thank you email."
Get to know Scarleth
What do you do in your free time?
I like spending time with my little brother, being in nature and trying different restaurants.
What does thriving mean to you?
Thriving is being able to flourish in my surroundings while feeling like I belong.
What do you enjoy most about working for BDO?
I like the flexibility and being able to express my opinion while feeling heard.
What makes you the happiest when doing your job?
The best moments are when verbally extending an offer to a student. You can hear the smiles and excitement on the other side of the phone.
People who know teamwork, know BDO.