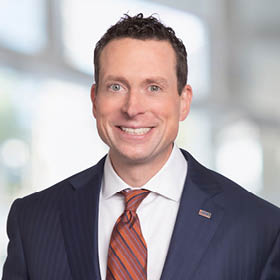 Matthew K. Becker
National Managing Partner of Tax
CPA
Executive Summary
As National Managing Partner of Tax, Matt Becker is responsible for the strategy and operations of BDO's Tax practice in the U.S., leading more than 3,100 tax professionals and serving as a member of BDO's Executive Leadership Team. Matt is also a member of BDO International's Global Tax Advisory Committee, working with other leaders from BDO's Tax practice globally to determine strategy for BDO International's tax function.
Previously, Matt was the Chairperson of the Board of Directors of BDO USA, serving the maximum term allowed by our partnership agreement.
Matt has vast experience leading the strategic direction and operations of tax practices having served at BDO as the National Tax Office Managing Partner, Managing Partner of BDO's Central Region, Tax Regional Managing Partner for BDO's Central region, and Office Managing Partner of BDO's Tax practice in Western Michigan.
As a tax partner at BDO since 2005, Matt has extensive experience serving the complex and strategic tax services needs of large multinational organizations in a variety of industries and high net worth individuals around the world. His NACD Fellowship and Board experience contribute in his capacity to advise on the long-term value creation for companies. Matt also serves BDO clients in a business advisory capacity, often serving on advisory boards for some of BDO's most significant clients.
American Institute of Certified Public Accountants
Michigan Association of Certified Public Accountants
American Institute of Certified Public Accountants
Michigan Association of Certified Public Accountants
Indian Trails Camp, Former Board Member
John Ball Zoo, Board Member and Board Vice President
Junior Achievement of the Michigan Great Lakes, Former Board Member and Chairperson
Literacy Center of West Michigan, Former Board Member
The Right Place, Board and Board Executive Committee Member