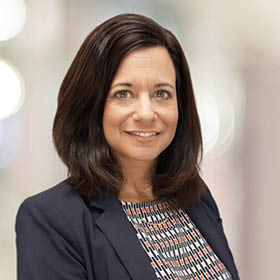 Laurie De Armond
Assurance Market Managing Principal
CPA
Executive Summary
Laurie is the Market Managing Principal for assurance services in BDO's Greater Washington, DC market which encompasses Maryland, District of Columbia and Northern Virginia with over 25 years experience in client service and operations. Overseeing a talented team of nearly 200 professionals, Laurie is responsible for guiding industry focused, targeted growth and people strategies in the market. BDO is the fifth largest accounting and consulting firm worldwide serving public and private clients in various industries with particular focus in the D.C. and Baltimore markets in technology, life sciences, government contracting, real estate and construction, professional services, healthcare, and not-for-profits.

Laurie also serves as the Executive Director of BDO's Institute for Nonprofit Excellence, guiding the strategy and direction of the Institute's thought leadership and resources nationally. She has over 25 years experience auditing and consulting on engagements for all manner of tax-exempt organizations including charitable and educational organizations, community-based organizations, trade associations, private foundations and colleges and universities. She also has extensive experience auditing large, complex employee benefit plans including defined contribution, defined benefit, health and welfare and multiple employer plans.

Laurie is a regular speaker at internal and external seminars on topics including industry trends, governance matters, leadership development and diversity and inclusion.

Laurie was awarded one of the 2013 Women to Watch Awards by the Greater Washington Society of CPAs for her contributions to the profession.
American Institute of Certified Public Accountants (AICPA)
Greater Washington Society of Certified Public Accountants (GWSCPA)
B.S., Accounting, University of Maryland at College Park
America's Charities – President, Board of Directors
University of Maryland Alumni Association, President, Board of Directors
AICPA Nonprofit Conference Planning Committee (2017-2020)
GWSCPA, Board Member, Women's Leadership Council