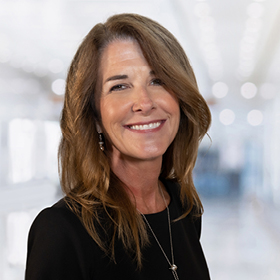 Kim Bolte
People and Culture Principal
PHR
Executive Summary
Kim Bolte joined BDO in September 2008, as director of Total Rewards. Since then, she has taken on additional responsibilities to include HR information systems, organizational development, succession planning, and total rewards including benefits, compensation, leaves of absences, regulatory compliance, workers' compensation, and wellness, along with the firm's HR Resource Center, policy development, job descriptions, performance initiatives, firm expansions, and overall Human Resources strategy.
Kim's passions are driven by delivering the highest level of client service while creating an Employee Value Proposition (EVP) aligned with BDO's strategic plan, including attracting, retaining, and developing the best and brightest professionals with a comprehensive, competitive rewards system. Kim has over 20 years of experience in human resources in multiple industries for publicly traded and privately held businesses, both domestically and internationally.
Kim is a member of the BDO Retirement Committee, an active participant and presenter in the International HR community, participant in the firm's CLIMB strategic initiatives, and is the HIPAA Privacy Official for BDO's Health and Welfare Plan.
Society of Human Resources Management
World at Work
M.B.A., Business Administration, Campbell University
B.S.B.A., Human Resources Management, East Carolina University