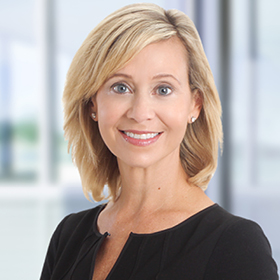 Kelly Johnson
National Practice Leader – Business Services & Outsourcing
CPA, CFP
Executive Summary
Kelly Johnson leads BDO's Business Services & Outsourcing practice and is the Chair of BDO USA's Board of Directors. With more than 30 years of experience in finance and accounting, she works with clients to transform their business resulting in revenue growth, improved profitability, and risk reduction through optimizing organizations' operational infrastructure. She oversees a seasoned team of talented professionals that evaluates and benchmarks key business functions to develop an integrated accounting, finance and human capital approach and build a resilient organization. Her team provides scalable solutions across a spectrum of client needs, supporting both on-going operations and strategic projects.

Kelly's focus is to provide extraordinary client service in a variety of industries through a unique combination of best-in-class professionals and tailored, real-time access to information providing business intelligence and insights that enable organizations to achieve greater profitability, growth, and realization of their highest goals.

To recognize her transformational approach to providing finance and accounting services to her clients, Kelly was awarded Digital CPA's Innovative Practitioner of the Year Award in 2017.
American Institute of Certified Public Accountants
National Association of Corporate Directors
Virginia Society of Certified Public Accountants
B.S., Accounting, Pennsylvania State University