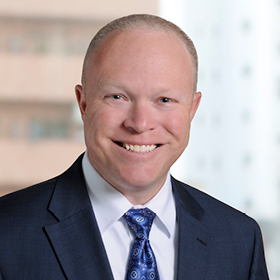 John Marquardt
Tax Managing Partner
CPA
Executive Summary
John is the Central Region Managing Partner of Tax Services at BDO, leading over 750 tax professionals in 16 cities across the Midwest.

John has extensive knowledge in all aspects of corporate tax, consulting businesses of all sizes and ownership structures with a heavy focus on manufacturing, automotive, and consumer products industries. He has more than 30 years of domestic and global tax planning with multi-national businesses, heavily focused in the automotive supply chain space and more recently, the automotive mobility and automated vehicles space.

John's experience includes corporate, partnership, mergers and acquisitions, international and multi-state taxation. He has deep involvement with a broad array of areas, including mergers and acquisitions, IPO transactions, dividend recaps, research credit, tax accounting methods, and accounting for income taxes. Additionally, he has led clients through complex IRS exams and implemented strategies focused on planning to defer and minimize tax.

John was elected to BDO's Board of Directors in 2020, serving on several committees and providing valuable insight for firm success. He also is the National Tax leader for the firm's Retail Industry group.

In addition to public accounting, John was a leader in Ford Motor Company's Office of Tax Counsel, leading strategic initiatives to reduce cash taxes and the company's global effective tax rate. He also led process improvements in the tax compliance area.

John's articles have appeared in Crain's Detroit Business and the Accounting Web and he has been featured on the podcast 60-Second Retail.
American Institute of Certified Public Accountants

Detroit Chinese Business Association, Board Member

Financial Executives International (FEI), Board Member

Michigan Association of Certified Public Accountants (MICPA)
M.B.A., Professional Accounting - Taxation, Michigan State University

B.A., Accounting, Michigan State University