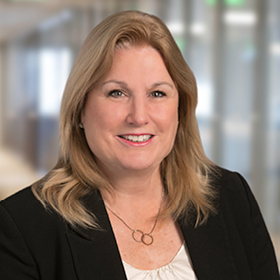 Joan Vines
Managing Director
CPA
Executive Summary
Joan Vines is a managing director in BDO's National Tax Office focusing on Compensation and Benefits. She has extensive experience in a wide variety of executive compensation, employee benefits, and qualified plan matters.

Throughout Joan's career she has worked closely with taxable, flow through, and nonprofit organizations on a wide variety of tax matters connected to providing compensation and benefits to workers.

Her executive compensation experience includes matters on equity compensation and deferred compensation arrangements. She addresses both the plan design, document compliance and operational compliance with IRC sections 409A and 457(f) deferred compensation rule, with compensation limitations under IRC sections 162(m) and to avoid or comply with the excess compensation provisions of IRC section 280G golden parachute payments and IRC section 4960 excess compensation for tax exempt organizations.

Additionally, she has extensive experience in the technical review of compliance projects dealing with qualifications of retirement plans, nondiscrimination testing and annual reporting on Form 5500s, Annual Return/Report of Employee Benefit Plan and training personnel that deal with ERISA plans, including the various correction programs offered by the IRS and DOL. She works closely with the BDO audit teams to ensure plan testing and compliance requirements of ERISA, the Internal Revenue Code and the Department of Labor are satisfied.

Joan has followed the compensation and benefits provisions of legislation during her career and is a regular presenter at BDO client seminars, the annual AICPA National Compensation and Benefits Conference, and other conferences.
American Institute of Certified Public Accountants
ERISA Lunch Group
B.A., Accounting, Birmingham Southern College