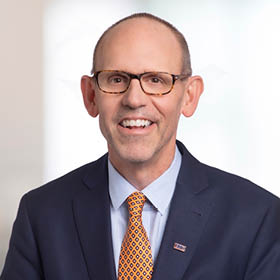 Jim Clayton
Management Consulting Principal; Private Equity National Co-Leader; Private Equity National Advisory Leader
Executive Summary
Jim is a strategic planner and progressive business transformation strategist with more than 30 years of combined experience impacting the visibility and performance of companies through orchestration of resources, operations, process improvement, policies, and protocols.

Jim has extensive experience in M&A transactions focusing on integrations, carve-outs, and IPOs. He has led significant business transformations including multi-year initiatives focusing on upgrading foundational technology in finance and operations (domestically and internationally), and optimizing business models and associated processes with budgets of over $150 million. He directed a multi-location (North America and Europe) team of 30-plus professionals supporting $1.6 billion project revenue operations (financial processes, systems, and operations) across 50 global offices with core leadership for underlying business operations systems including operating processes/procedures, access control, and data integrity. Jim also has successfully managed the financial, systems, and operations integrations of companies ranging from $100 million to $2 billion+.

Prior to joining BDO, he was a Principal in the Business Advisory practice of AC Lordi where he founded the Finance Transformation practice, helping finance organizations navigate process, technology changes, and increase their overall value proposition to their business partners and investors. He also served as a senior director for a $33 billion global health insurance firm where he directed multi-location project staff in execution of a more than $150 million financial process and systems project, and as global project controller for a $3 billion professional services firm.
M.B.A., Operations, Saint Joseph's University
B.S., Business Administration – Finance and Information Systems, University of Delaware