2020/2021 CRO INSIGHTS REPORT: While Compensation Levels and Practices Remain Status Quo, Turnover Continues to Be High
2020/2021 CRO INSIGHTS REPORT: While Compensation Levels and Practices Remain Status Quo, Turnover Continues to Be High
Introduction
The recently published 2020 CRO Industry Global Compensation & Turnover Survey provides clinical research outsourcing companies around the world with comprehensive data on compensation levels, plan design and employee turnover data intended to guide their compensation strategy development. The most recent edition of the survey reveals turnover continued to be high while compensation levels and practices remain status quo.

One of the biggest challenges facing Clinical Research Organizations (CROs) is the management of escalating turnover levels, particularly for Clinical Research Associates (CRAs). Turnover levels for CRAs in the U.S. have been persistently high in recent years.

Turnover for these roles outside of the U.S. has also been trending upward and hit a three-year high of 20.3% in 2019. The lower rate as compared to U.S. total turnover may be due to less intense travel requirements, as CRO offices abroad typically serve one (relatively smaller) country only, while those in the U.S. tend to cover a much larger geographical area which significantly increases required travel.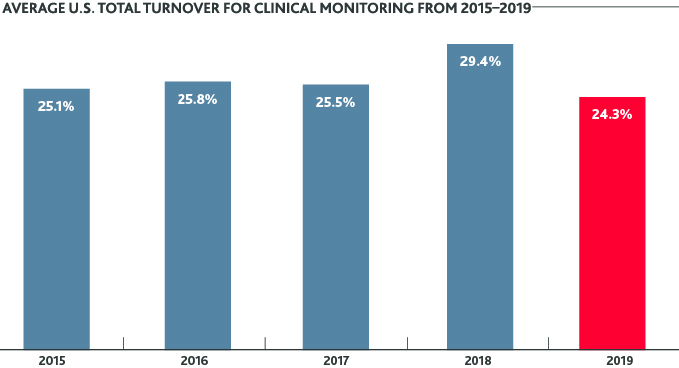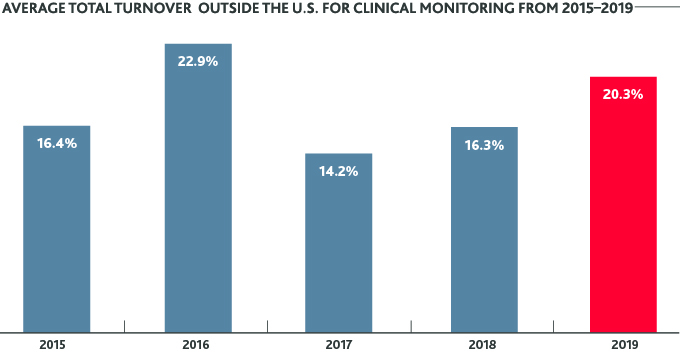 While turnover outside the U.S. hovers around 20.3% for clinical monitoring roles, several countries are experiencing turnover at levels comparable to those in the U.S.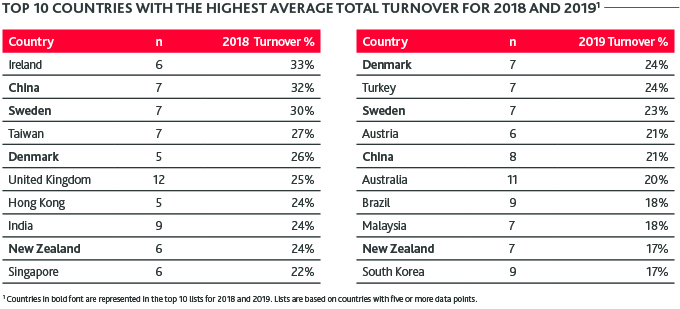 Impact of COVID-19
Many expected lockdowns and a stifled economy to result in employees staying put; however, this has not been the case. CROs' Human Resources (HR) and management are incredulous at the level of turnover. Based on a BDO-sponsored poll of 15 CROs year-to-date, U.S. turnover was over 21% as of early November.
"Companies are telling us that employees are leaving for pay increases that are more than the typical 10-15%. Even companies in countries with challenged economies, such as Argentina and Brazil, are experiencing high turnover rates. These trends highlight the growing staffing challenges facing many CROs."
Judy Canavan, Managing Director, Global Employer Services
The CRO industry is not the only area with high turnover—ADP reported professional services experiencing a 22% job switching rate resulting in an average of 8% increase in pay. This points to concerns that management should have regarding the potential impact of shrinking merit budgets on next year's turnover.
Key Influencers of Turnover
BDO's analysis of historical compensation levels and pay delivery mechanisms show CROs have been unsuccessful in increasing compensation levels for the positions with the highest turnover. We found that companies' approaches to compensation levels and delivery mechanisms have remained largely unchanged during the last ten years. Furthermore, CROs' U.S. salary increase budgets have been 3% or less and typically lagged behind general industry[1] up until recently.

At this rate, CRAs with three to five years of experience have developed a level of skill that has likely exceeded the size of their paycheck. Unsurprisingly, many of these employees view switching companies as their best career choice.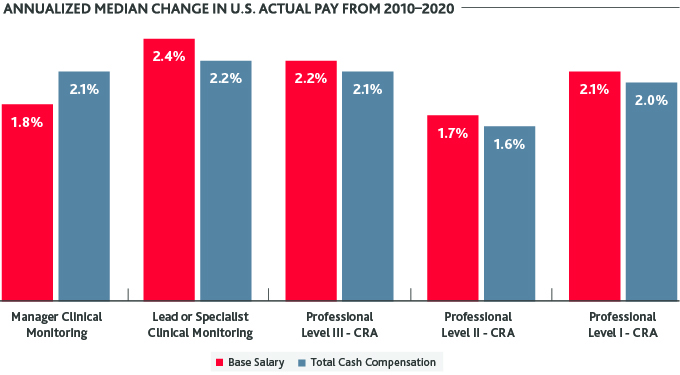 Combating Turnover
CROs have developed and implemented various retention programs to help combat turnover. These programs often focus on building more connections among professionals and reducing "travel fatigue." Companies offer various travel perks, tools for connecting with colleagues and accelerated promotions (though HR professionals admit this is usually done in reaction to a potential loss rather than proactively).

To retain talent, CROs should consider rethinking their approach to managing these specialized roles. These employees are well educated, rapidly learning critical skills, and motivated and excited about how they can contribute to the health and wellbeing of others and their own career. It is important to provide them with a charted path upward to help them see a way forward, feel a sense of accomplishment and feel acknowledged for their efforts.

Annual incentives (AI) are another tool for attracting and retaining key talent. Performance-based incentives are an effective way to motivate employees with an added advantage to the company because they are only paid if specific performance criteria are met. Incentives are an excellent opportunity to reward and retain top performers. However, annual incentives based on corporate performance may not effectively serve this purpose. Incentives need to be paid at meaningful times (for instance, after a key step in a project is concluded), and the performance metrics need to feel relevant and controllable by the employee – project and team incentives are more effective in achieving these goals.
Conclusion
As noted earlier, turnover generates real costs including hard costs for recruiting new talent and soft costs in terms of intellectual capital loss and project continuity. In addition, loss of project team members undermines relationships with sponsors. To avoid the financial and intellectual capital losses that accompany high turnover, CROs should consider taking a proactive approach to increasing pay levels commensurate with contribution. This can be accomplished through:
Salary increases that are tied to increased contribution. This may be effectively implemented through a competency system.
Increasing the use of performance-based incentives. These can come in many forms including project incentives, retention bonuses tied to milestones or team-based incentives.
[1] WorldatWork's "2020-2021 Salary Budget Survey"