BDO Ninth Annual Private Equity PErspective Survey
BDO Ninth Annual Private Equity PErspective Survey
Private Equity Firms Continue Hunting for Quality Deal Flow in 2018
Rec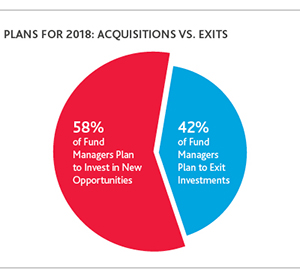 ord-breaking amounts of capital and cheap, easily accessible debt have driven valuations to sky-high levels. But as the amount of capital available for investments far outpaces the acquisition opportunities that exist, deal activity is slowing down.

Further constraining the deal making environment is the Trump administration's decision to tackle tax reform, leading many private equity firms to take a wait and see position.
Despite these factors, 58 percent of private equity fund managers intend to continue seeking acquisition opportunities over the next 12 months, according to BDO's Ninth Annual Private Equity PErspective Survey. After all, firms must put their dry powder to work if they're ever going to be able to distribute capital back to their investors.
---
Explore the Survey
Click or tap the graphics below to explore the different sections of the Survey.



Still, institutional investors continue betting on private equity as a provider of good returns. In fact, 37 percent of fund managers point to institutional interest in the asset class as the main driver of dry powder accumulation, followed by competition for deals (31 percent), and high valuations (24 percent).

Respondents identify family offices as the main source of commitments (37 percent), followed by pension funds (22 percent). Last year, 46 percent said family offices were their main source of commitments while 20 percent pointed to pension funds.

According to private equity fund managers, these institutional investors are mostly looking for firms with solid track records (55 percent), strong management teams (10
percent) and ability to source deals (nine percent).

---