The Biotech IPO Boom
The Biotech IPO Boom
2020 was a record year for biotech IPOs—and that trend is continuing in 2021. With both the number and proceeds of biotech IPOs reaching all-time highs, it's clear that the market is betting on biotech.
The Biotech Recap
| | |
| --- | --- |
| | R&D prioritization was a key focal point for biotech in 2020. That trend is continuing in 2021—according to the 2021 BDO Life Sciences CFO Outlook Survey, 64% of biotech CFOs are planning to increase R&D spending this year. |
| | Collaboration was crucial for biotech companies in 2020, and it's only getting more important. 50% of biotech companies are planning to collaborate on commercialization in 2021. |
| | Capitalizing on R&D tax credits was critical to protecting and stretching financial resources during the pandemic. Tax concerns are remaining top of mind for the sector. 18% of biotech CFOs cited tax reform as their top policy concern of 2021. |
Breakthrough Year for Biotech
In 2020, biotech IPOs mirrored overall IPO trends: For IPOs, 2020 was a record-breaking year, with biotechs driving significant activity. 78 biotechs went public in 2020, the most ever in a given year and a 77% increase from 2019.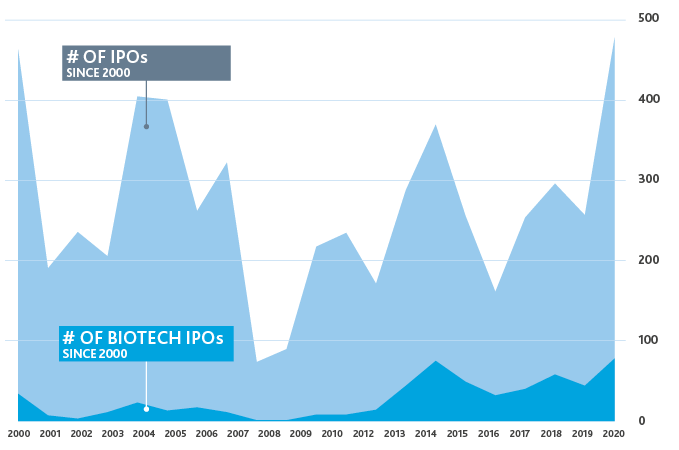 Biotech IPO gross proceeds also increased sharply, from $5 billion in 2019 to $12 billion in 2020. Overall IPO gross proceeds hit $152 billion in 2020, more than double the $65.8 billion in 2019.
Many more companies were added to the NASDAQ Biotech Index (NBI) as well.
In 2019, 40 companies were added to the NBI, whereas 100 companies were added in 2020. The NBI net change is perhaps even more noteworthy. In 2019, 36 companies were removed from the NBI, resulting in a net positive change of 4 companies. In 2020, only 16 companies were removed from the NBI, resulting in a net positive change of 84 companies.

Part of the reason for such a high net change is that investors are making liquidity and capital available to biotech companies earlier and in higher volumes, resulting in more companies reaching the required $200 million market cap, which is a prerequisite for listing on the NBI.


Most biotech companies that pursued IPOs in 2020 were small: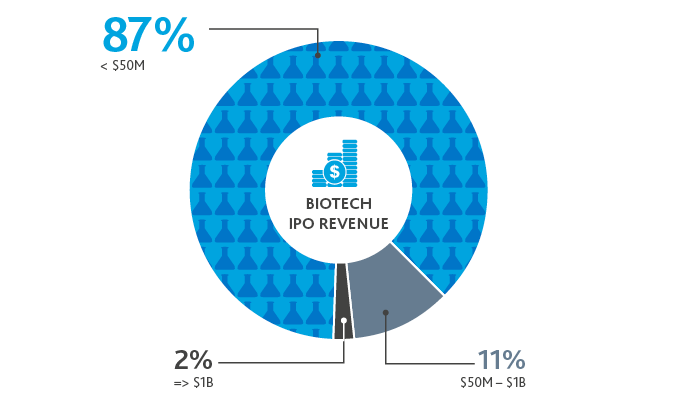 Top Markets for Biotech IPOs
| | |
| --- | --- |
| | Massachusetts is home to 32% of biotech IPOs added to the NBI in 2020 |
| | California is home to 30% of biotech IPOs added to the NBI in 2020 |
As the pandemic continues to draw attention to the importance of life sciences innovation, we expect the number of biotech companies seeking IPOs to increase. According to the 2021 BDO Life Sciences CFO Outlook Survey, 73% of biotech companies have three to four promising products in their portfolios for commercialization, which could benefit from the additional investment and commercial attention an IPO can bring.

For 2021, here are a few trends and considerations biotech leaders should keep top of mind:
Where will biotech invest?
Top areas of investment for biotech CFOs in 2021 are diagnostics (41%), COVID-19 vaccines (32%) and COVID-19 therapeutics (32%). We may see a significant number of biotech companies devoted to COVID-19 products go public in 2021, but as more products come to the market and the virus is brought under control, investment could taper off in this area.

The impact of government funding.
According to the 2021 BDO Life Sciences CFO Outlook Survey, 82% of biotech companies received some form of government assistance during the pandemic. This information will be made public during the IPO process. If a company did not comply with the terms of the government aid or did not report it properly on their financial statements, it could impact their prospects for completing a successful IPO.

Long-term pandemic impacts.
The pandemic has shifted priorities in the life sciences space. COVID-19 therapeutics and vaccines have received significant investment from both the federal government and private investors. The focus on COVID-19 products could draw investment away from biotech companies dedicated to non-COVID-19 research. Companies that create life-saving immunotherapies, for example, may encounter difficulties attracting investment, which could have long-lasting impacts in both the life sciences and healthcare sectors.

The SPAC advantage.
Instead of a traditional IPO, some companies choose to go public through a special-purpose acquisition company (SPAC). SPACs are attractive in the biotech sector because they can provide capital quickly, particularly for companies that have an emerging product pipeline with near-term expectations of clinical news and a strong management team. SPACs boomed during 2020, and we may see this trend continuing in 2021 for the biotech sector. To learn more about how biotechs and other life sciences companies can benefit from SPACs, check out our insight on Life Sciences Companies and the SPAC Advantage.