BDO Alliance USA Member Spotlight - Annie Yoder, Rea & Associates
BDO Alliance USA Member Spotlight - Annie Yoder, Rea & Associates
BDO Alliance USA is among the industry's largest associations of accounting and professional services firms. In more than 850 locations throughout the U.S., member firms are fully autonomous, united in mindset, caliber of service, and spirit of collaboration. In this series, we introduce you to Alliance Member leaders who are making a difference in their firms.

Meet Annie Yoder, CPA, CFE, CFF, Principal and Director of Development at Rea & Associates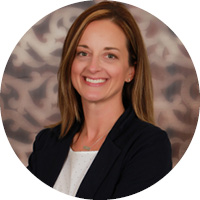 An Ohio-based public accounting firm with its headquarters in New Philadelphia, Rea & Associates joined the BDO Alliance USA in 2018. Annie has been with the firm for over 18 years. She started her career at the Ohio State Auditor and eventually interned for Rea & Associates. She began at Rea as a generalist, focusing on governmental audits, but always had a desire to work in the white-collar crime unit of the FBI. So, she later transferred to the litigation support department to do fraud risk assessments and forensic accounting work.

Annie participated in the Next Gen leadership program offered through Rea, which focused heavily on people development. This experience, along with her desire to help others in their professional development, led to a new role at the firm. Initially, she had planned to spend half her time in practice and the other half developing the Rea Academy, but the latter part eventually became a full-time position. She has now spent five years in that role, during which time the firm grew from $35 million to $60 million in revenue.

In the coming months, she will take on yet another role within firm management overseeing Rea's Advisory and Consulting practices, which include IT/cybersecurity, HR consulting, state and local tax, client advisory, business valuation/transaction advisory, and dental. She will work with the leaders of each of these practices to help solidify their success.

Tell us about your educational background.

I was a first-generation college graduate in my family, attending Walsh University in North Canton, Ohio where I received my undergraduate degree in accounting. I also received my master's in business administration with a concentration in finance from Ashland University. I've always been focused on giving back to my alma mater; I even returned there to teach auditing courses for several years. Currently, I serve on the Deville School of Business' Business Advisory Board for the university.

Who was your mentor growing up?

Internally, Rea's previous CEO Don McIntosh was my mentor. I learned so much under his leadership. Externally, my mentor is Jerry Esselstein. He had a heavy hand in our Next Gen leadership program, and I really learned a lot from working with him and taking in all the knowledge I could from our discussions.

What are you most proud of as it relates to serving on the Management Team at Rea & Associates?

Being a voice and advocate for those who may not have a chance to be heard, which is basically the motto of our firm: transparency and collaboration. We have a true culture of availability. Anyone, no matter what level they are in the firm, can reach out to management at any time. No one is better than anyone else. We empower our employees to drive change at every level.

If you could go back, what advice would you give your 25-year-old self?

Stop worrying so much! Things always seem to work out in the end.

What is your favorite thing to do while not working?

I truly enjoy spending time with my family. We have two boys, ages 8 and 6, and we keep our schedules full with basketball, baseball, golf and soccer. I also love to read (would classify myself as an avid reader) and cook. I am also proud to serve on the Board of Directors for StarkFresh, a nonprofit that tackles the causes of hunger and helps people find their way out of poverty.

Rea & Associates received the 2021 Best of Accounting Award for Service Excellence and, for several years, has been named a Top 100 Firm by Accounting Today. What do you feel is the reason the firm has received these honors?

It all comes down to a client's perspective of our services. Our response time is exceptional, and our client service teams are highly available to support them. We have a culture of availability.

What would you like to share about your experience in the BDO Alliance USA?

Our relationship in the Alliance program has been powerful in many ways. It has expanded our technical capacity tremendously, especially with international work. From a networking standpoint, the roundtables and forums have expanded our capabilities as well, so much so that we ensure our firm is represented in as many ways as possible. There is definitely a growth mindset in this program, even though some firms may be geographically close. We network together and realize that there is enough work for everyone. As far as referral activity, we have benefited greatly in both directions. Participation is key though. I led our firm through the transition from our previous association to the BDO Alliance USA. For current members or those considering the Alliance, I would say "You get out what you put into it." I am constantly monitoring how much our firm is participating in all of BDO's offerings.

Do you have any parting advice?

Never stop learning. The "Rea Way" incorporates that value with our overall culture. It consists of the values on which Richard C. Rea and others built the firm back in 1938. Since then, we try to live those values and morals everyday — values that were clearly ahead of their time. Check them out here.