BDO Alliance USA Member Spotlight – Anthony Mccree, GJC CPAs | Advisors
BDO Alliance USA Member Spotlight – Anthony Mccree, GJC CPAs | Advisors
BDO Alliance USA is among the industry's largest associations of accounting and professional services firms. In more than 850 locations throughout the U.S., member firms are fully autonomous, united in mindset, caliber of service, and spirit of collaboration. In this series, we introduce you to Alliance Member leaders who are making a difference in their firms.
Meet Anthony McCree, Managing Partner of GJC CPAs | Advisors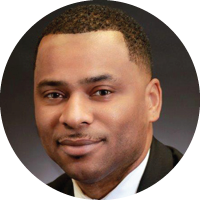 Headquartered in Detroit, with an additional office in Chicago,
GJC CPAs
joined the BDO Alliance USA in 2002 and is happily celebrating its 80
th
year in business this year. Formerly known as George Johnson & Company, GJC CPAs is the oldest Black-owned firm in Michigan and the 11th oldest in the nation. The firm has roots dating back to the early 1940s when Richard H. Austin started the firm after graduating college with a degree in accounting. Austin, the first Black CPA licensed in Michigan, eventually sold the firm to George Johnson in 1971 when he was elected Michigan's Secretary of State, the nation's first African American Secretary of State and the first African American to hold a statewide elected office in Michigan.
Anthony McCree joined GJC CPAs in 2016, assuming the role of Managing Partner from George Johnson. He has over 25 years of public accounting and auditing experience, including years spent at PwC and UHY LLP. Anthony currently serves on the boards of several Detroit-based organizations, including the Detroit Police Athletic League (bridging the gap between intercity youth and police), We Care Foster Care, Detroit Symphony Orchestra, and the Accounting Aid Society. Anthony also serves on the board of Ryan Banks Academy, based in Chicago.
Who was your mentor growing up?
I didn't really have a mentor persay, but while I was in college, I really connected with a professor who had a big impact on me. Initially, I was a psychology major, but soon realized that was not for me. One of my football teammates suggested finance, so I took a couple of business courses, one of which was accounting under Professor Howard Morris. Professor Morris was a black CPA and his example really encouraged me to major in the field. I enjoyed the classes and eventually followed his lead, graduating with a B.A. degree in accounting from Hillsdale College in Michigan.
What are you most proud of in your role as managing partner?
I am certainly most proud of our team. We have a very experienced group here that produces high-quality, top-notch work. We also have very low turnover because our people are truly happy. It's a great place to work.
How has the impact of COVID affected your firm, and how have you maintained that sense of culture?
We have made great use of the various forms of technology, such as Zoom. For example, when not in the office, we use the Zoom breakout room function, so there is always the opportunity for visual communication amongst our staff even when we can't be together. The COVID environment has actually made us more efficient. We do our employee onboarding all over Zoom, including training and incorporating new folks into our firm culture. It's worked out pretty well. We have a strong culture of openness, and serving our people and community is a cornerstone of that culture. We have an annual firm outing which we've entitled "Community Day," where our staff donates their time to food banks and other nonprofit organizations. Giving back to the community is in my DNA, so it has become a part of what we do at GJC CPAs too. In fact, to celebrate our 80
th
anniversary this year, the firm will be collectively donating to 80 different nonprofit organizations through sponsorships and services.
What is your favorite thing to do when not working?
I really love to travel, but COVID has unfortunately had a big impact on that. Recently, I was able to take a road trip to Tennessee though and stay in a cabin, which was a lot of fun. I have a long list of other destinations I'd like to visit on my bucket list, including a few international spots.
If you could go back, what advice would you give your 25-year-old self?
Invest in the City of Detroit! The property values really dropped for a while, but over the last 10 years, they have taken off. Knowing that, I would have bought as many properties as I could.
What would you like to share about your experience in the BDO Alliance USA?
The BDO Alliance USA has been a huge resource for our firm over many years, especially in the areas of staff sharing and marketing materials/resources. We also utilize other Alliance Member firms to borrow staff when needed for certain engagements, which has been a huge benefit.