Section 3: Digital Transformation Success Factors
Section 3: Digital Transformation Success Factors
1. STRONG LEADERSHIP & MANAGEMENT
Technology doesn't solve business problems—people do. Having the right leadership for your digital transformation efforts is critical to moving your goals forward. Over one-fourth (26 percent) of survey participants cite a lack of leadership or vision by senior management as the top barrier to successfully implementing new digital initiatives. Meanwhile, nearly half (41 percent) quote poor communication and project management.

Regardless of whether your digital transformation initiatives are headed by your CxOs, business unit heads, or IT department, having clear priorities, responsibilities, and metrics for accountability is crucial to having your implementation plans run smoothly and efficiently. Organizations should consider creating a Digital Transformation Office (DTO), which is responsible for ensuring that individual initiatives are executed against the company's long-term vision. The DTO should be supported, or even led by, an Executive Sponsor.

DIGITAL TRANSFORMATION HAS TRANSCENDED THE IT DEPARTMENT

Primary Leader of Digital Transformation Strategy
Tech vs. Non-Tech C-Suite Leadership (Digital Transformation Strategy in Progress)

WHAT MAKES A GOOD DIGITAL LEADER?
| | |
| --- | --- |
| | VISIONARY: Making the internal business case for digital transformation is not always easy. Leaders must have a strong conviction in their vision and values, while continuing to be agile, iterative, and flexible in their approach. |
| | |
| | OPPORTUNISTIC: New technology can be seen as a risk—or an opportunity. Smart leaders view it as both, taking the time to rally their troops and march ahead, while continuing to be aware of potential risks. |
| | |
| | COMMUNICIATIVE: Not everyone may be immediately onboard with digital transformation—thus, clear and consistent communication is paramount. Leaders must be able to understand other perspectives, without losing their own vision and conviction. |
| | |
| | DISCIPLINED: Steering a ship doesn't just take seafaring skills—it takes a captain who can stay on course, even when seas are stormy. It's easy to get lost in the hype of new technologies; thus, leaders must remember to continually revisit their goals to ensure they're on track. |
| | |
| | PROACTIVE: Leaders should be on the constant lookout for new processes, technologies, and opportunities that can accelerate their digital transformation efforts. |
| | |
| | SUPPORTED: No leader can operate effectively without a dedicated internal and/or external support team. Internal digital transformation champions can help spark and maintain enthusiasm, while external advisors can advise on critical decisions from a more objective perspective. |
THE BOTTOM LINE:
One of the most difficult parts of digital transformation is fostering a corporate culture that embraces constant experimentation and learning—one in which short-term mistakes and failures are expected and accepted in the pursuit of long-term innovation and value creation. To inspire this type of behavioral change, digital transformation leaders must embody this spirit themselves, before evangelizing it across the organization.
---
2. DEFINED DIGITAL TRANSFORMATION APPROACH
Ready, set...innovate! If only it was that easy. Every business initiative requires thoughtful planning and consideration, and digital transformation is no different. A major part of successful planning boils down to understanding your organization's "innovation approach"—in other words, how you plan on actually going about and activating digital transformation.

Part of this includes assessing your company's own innovation maturity, which serves as a benchmark for execution. An organization that has historically been more resistant to change isn't built to approach digital transformation the same way as one comfortable with experimentation. So, before you hit "go," take the time to figure out what works best for you.

INNOVATION MATURITY SCALE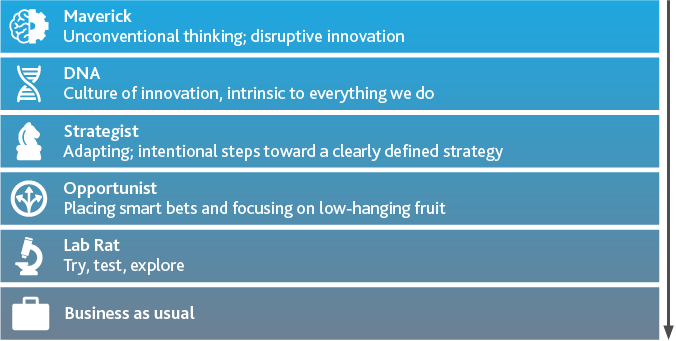 CURRENT APPROACH TO DIGITAL TRANSFORMATION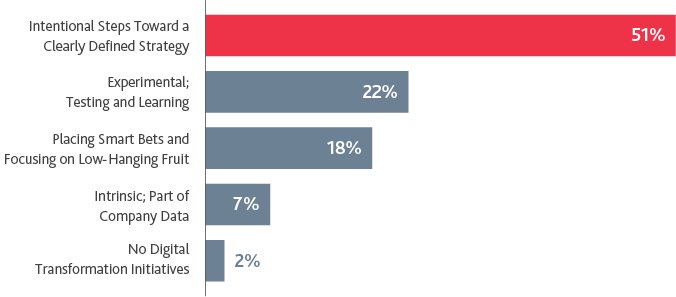 THE BOTTOM LINE:
Every organization's digital transformation process is going to be different, depending on its digital maturity, culture, customer base, and business objectives. Taking the time to identify the best innovation approach for your business—while recognizing it may also change over time—is a critical component in developing your overall digital transformation strategy.
---
3. BUSINESS ENABLEMENT & DIGITAL ADOPTION
Most of the hype surrounding digital transformation may be centered on the adoption of new technologies and digital capabilities, but that's only half the story. The other half is about empowering the end users—employees and customers—to use them effectively.

Getting stakeholder buy-in and engaging them throughout the innovation journey is essential to delivering a solution that will ultimately resonate and stick around. This includes eliminating common causes for resistance or opposition—such as a lack of digital skills or training, or fears about job security—that could hinder employees from embracing change.

PLANS TO ENABLE AND ENSURE EMPLOYEE ADOPTION OF TECHNOLOGY ADVANCES
THE 7 C's OF CHAMPIONING CHANGE
CONVINCE

► Make the case for change
► Scope the change initiative
► Win management support
COMMIT

► Set your strategic vision and desired outcomes
► Identify internal change champions
► Establish ownership
CODIFY

► Conduct a baseline assessment and identify barriers
► Define operational, process, people, and behavioral changes
► Create an implementation plan
CONVERT

► Lay out the strategic vision
► Communicate individual expectations
► Empower middle managers
CATALYZE

► Equip employees with training and tools
► Systematize reinforcement
► Recognize and reward wins
CULTIVATE

► Clarify new roles and responsibilities
► Develop and train new skillsets
► Invite employee feedback
CHART

► Monitor and report progress
► Measure business and cultural impact
► Create a cross-functional feedback loop
THE BOTTOM LINE:
Organizations that prioritize technology adoption over change management risk isolating or disconnecting the very people they are trying to empower: their employees. Digital transformation leaders must take employee enablement into account when planning digital initiatives and build in sufficient time and support to prepare their people to work differently. They will need to not only convince their teams of their vision, but galvanize new behaviors.
---
RETURN
|
READ NEXT
►