M&A TRENDS REPORT
Deal Advisor Digest | Issue 8
Creating Lasting Value Amid Change – What's Your Strategy?
2021 saw record deal activity and the year closed with a strong second half. That momentum has continued into 2022 despite a slight dip during Q1. The road ahead could look much different by year's end. Whether you're a buyer or a seller — or both — now is the time to review your M&A playbook, evaluate your strategy, assess all growth options, and prepare for long-term creation of value or a timely exit.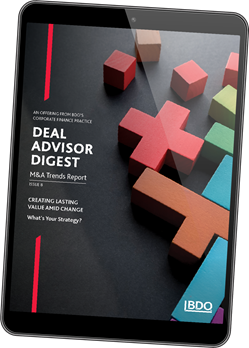 Investment banking products and services within the United States are offered exclusively through BDO Capital Advisors, LLC, a separate legal entity and affiliated company of BDO USA, LLP, a Delaware limited liability partnership and national professional services firm. For more information, visit www.bdocap.com. Certain services may not be available to attest clients under the rules and regulations of public accounting. BDO Capital Advisors, LLC is a FINRA/SIPC Member Firm.