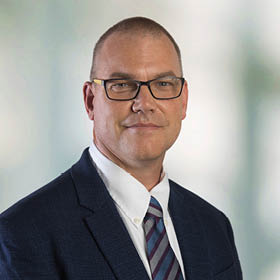 Doug Curtis
National Fixed Asset Advisory Services Practice Leader
EIT
Executive Summary
Doug is an Electrical Engineer and a licensed Journeyman Electrician with more than 10 years of experience in electrical systems design and construction. He has been with BDO since 2003 and has successfully completed over 1,000 federal cost segregation studies.

Doug has worked with clients in a wide variety of industries, including retail, manufacturing, financial services, medical, residential, construction services, technology, distribution, and real estate by performing cost segregation studies on newly constructed, existing, and acquired facilities to increase cash flow through accelerated depreciation of construction costs and identification of all allowable tax credits. He is part of BDO's Green Energy Tax Services team and also leverages his experience as an Electrical Engineer to perform sales tax utility studies.

Doug has worked as an Electrical Engineer for a large consulting architectural and engineering firm. His responsibilities included design of electrical systems for commercial, industrial, wastewater plants, medical, and residential facilities, as well as construction observation on many types of projects.

Doug served in the United States Air Force for four years of active duty and eight years in the Air Force Reserves. He was deployed to Saudi Arabia and served in the Persian Gulf War. Doug continues to serve his community on his local township Planning Commission as Vice-Chair, as well as being a member of the Zoning Board of Appeals.
Licensed Journeyman Electrician, Michigan
B.S., Electrical Engineering, Grand Valley State University
Caledonia Township Planning Commission, Vice Chair
Caledonia Township Zoning Board of Appeals