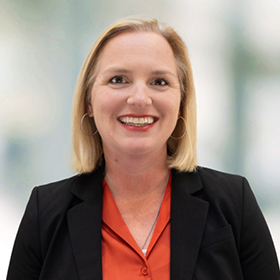 Dawn Williford
Assurance Market Managing Principal; Risk Advisory Services
CIA
Executive Summary
Dawn leads the Internal Audit Risk and Controls practice within Risk Advisory Services, where she is responsible for practice management, including resource planning, financial performance (P&L), business development, quality control and client satisfaction. In this role, she works with the Central, West and East geography leaders in the firm's national efforts to grow and deliver services to our clients including Internal Audit, Sarbanes Oxley (SOX), Enterprise Risk Management, Internal Controls Consulting and Quality Assurance Reviews. Dawn works closely with the Data Risk and Security leadership team to ensure the team provides a high quality, integrated solution to our Internal Audit and SOX clients.
Dawn has spent more than 24 years in public accounting at Big 4, smaller regional firms, and BDO, in increasing responsibility roles assisting clients with risk mitigation, whether assisting with IPO readiness, SOX Year 1 Implementation, Internal Audit, Contract Audit, Corporate Governance or Compliance. Dawn assists clients with the development of their internal audit department and serves as the Chief Audit Executive for her outsourced Internal Audit clients.
Dawn is the Contract Compliance practice leader and directs the efforts of our practice performing construction audits, vendor audits, royalty audits, licensing audits, joint venture audits, franchise audits, and large-scale, lease audits, and multi-vendor audit programs. The practice has yielded millions of dollars in cost recoveries for clients as well as valuable process changes to help clients and their contractual parties from repeating past mistakes. Dawn has participated in fraud investigations, identified root causes and internal control breakdowns that led to the fraud, and has redesigned processes and controls to help clients prevent future instances of fraud.
Dawn has experience in all facets of the energy industry, including upstream, midstream, downstream, and oilfield services. She has spent many years performing internal audit, process improvement, and controls testing for contract drilling companies, both onshore and offshore and has extensive international experience across Asia, Africa, Europe, and South America. Dawn also works with manufacturing and retail, financial services, franchisors, and has also served one of the largest privately held ranching and farming companies in the US for more than 15 years.

Certification in Risk Management Assurance (CRMA)
Institute of Internal Auditors
B.B.A., Finance, University of Texas, Austin