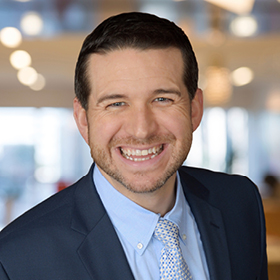 Dan Kramer
Assurance Market Managing Principal
CPA
Executive Summary
Dan began his career in public accounting over 15 years ago and has significant experience in the manufacturing & distribution, real estate & hospitality and software industries. He has overseen a number of public and private engagements while resolving accounting, auditing and complex operational issues. Dan has also assisted with bankruptcy emergence, turn-around planning, carve-out audits, fiscal year-end changes and merger & acquisition due diligence. He has served as an engagement quality reviewer and internal inspector for clients across industries. Dan began his career at Arthur Andersen in tax, followed by audit at a Big Four firm before joining BDO. This cross-section of focus areas and breadth of experience provides him with a unique perspective that brings added value to his clients.

Dan has extensive experience managing international teams and directing the overall audit strategy through the implementation of innovation, data analytics and visualization tools. Additionally, he is actively involved with recruiting throughout the state of Wisconsin and is passionate about the development of the professionals within the practice. Dan also serves as a mentor to numerous community organizations.

Dan also serves as the Upper Midwest Market Managing Principal of Assurance services. In this role, he is responsible for managing the firm's resources and fostering an environment that promotes and strengthens the firm's core values.

Industry Focus
Dan has served a wide range of clients, from large multi-national SEC engagements to private start-up entities, as well as private equity owned entities. He has consulted on business acquisitions as well as complex valuation, leasing and inventory matters in the manufacturing & distribution sector. Dan also maintains a Real Estate Brokers license, which has provided him with unique insights to serve his clients. Dan has experience in a variety of other industries including family offices, retail, energy, healthcare, education and technology.

Accounting Advisory Board – Marquette University College of Business
American Institute of Certified Public Accountants
Greater Milwaukee Committee (GMC)
Metropolitan Milwaukee Association of Commerce (MMAC)
Wisconsin Institute of Certified Public Accountants
B.S.B.A., Marquette University