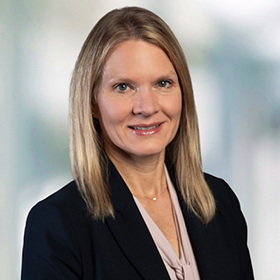 Cassie Hartogs
Tax Atlantic Regional Managing Partner
CPA
Executive Summary
Cassie Hartogs is the Tax Regional Managing Partner (RMP) of the Atlantic region. In this role, she manages more than 550 tax professionals across 10 cities and leads the tax practice in operations, strategy, recruiting, business development, and professional development. Cassie is also a leader of the Tax Efficiency team that drives innovative solutions, streamlines processes, and embraces emerging technologies and automations that will shape the future of tax compliance and consulting at BDO.
Cassie has more than 25 years of experience providing diversified strategic tax planning, tax compliance, and examination services. Cassie's areas of expertise include S-Corporation tax planning and consulting, including multi-state issues, mergers and acquisitions primarily in government contract industries, and overall strategic tax planning and advisory services.
To recognize Cassie's dedication to BDO's core purpose and values, and for exemplifying technical rigor while providing exceptional client service, she was awarded BDO's prestigious 2019 Seidman Neuhausen award.
American Institute of Certified Public Accountants
Certified Public Accountant
Virginia Society of Certified Public Accountants
B.S., Accounting, West Virginia University
Virginia Society of Certified Public Accountants, DEI Advisory Council
Virginia Medical Reserve Corps
SevaTruck Foundation