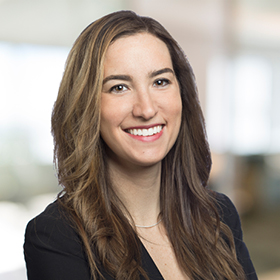 Cara Mooses
Sr. Director, Sustainability & ESG Corporate Strategy
Executive Summary
As Senior Director of Sustainability & ESG Corporate Strategy, Cara is responsible for translating BDO's long-standing commitment to its people, clients and communities into a purpose-driven sustainability and ESG strategy.

Working across the organization, Cara partners with the firm's operational leaders to integrate sustainable practices into the firm's core business strategy, operations and culture. She is responsible for the oversight and advancement of key strategic goals and initiatives, including the firm's path to Net Zero. Additionally, Cara leads BDO's public disclosure and reporting in alignment with global reporting frameworks and the U.N. Sustainable Development Goals.

A member of the firm's ESG Leadership Team, and ESG Center of Excellence, Cara is an International Society of Sustainability Professionals - Sustainability Excellence Associate (ISSP-SEA) and a Certified Sustainability Practitioner from the Center for Sustainability and Excellence.

She has more than 15 years of financial and professional services experience, including corporate risk and reputation, crisis management, executive eminence, media relations, and brand strategy and management.
B.B.A., University of Iowa