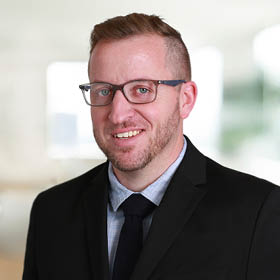 Brian Miller
Assurance Principal, BDOADVANTAGE
CPA
Executive Summary
Brian is an audit principal with over 20 years of public accounting experience including working with public and private companies, ranging from development stage companies to accelerated filers with multi-national operations.

Within the BDOADVANTAGE program, Brian works closely with the firm's leaders to set assurance innovation strategies, assurance data analytics, automation and artificial intelligence strategies, and assurance data governance strategies. His responsibilities include evaluating BDO's short-term and long-term innovation priorities and the measures of positive impact to BDO's future. Brian believes in nurturing a culture of global convergence and imagination and is passionate about shrinking the space between improbable and possible, and harnessing the power of people and technology to transform our business.

Brian has been involved in several standard setting and evaluation activities, including the working group that authored the AICPA Guide to Audit Data Analytics. He currently serves on the Center for Audit Quality ('CAQ') Data Analytics Task Force initiative.
Brian currently sponsors the BDO USA and BDO Global Audit Data Analytics initiatives, and the BDO Global Portal initiative.

In 2019, Brian was awarded the BDO Medal, given annually to professionals in recognition of significant contributions to the development of the BDO global network through their professional activities.
American Institute of Certified Public Accountants
Association of Certified Fraud Examiners
California Society of Certified Public Accountants
University of Wisconsin Alumni Association
B.B.A., Accounting & Information Systems, University of Wisconsin
B.A., English Literature, University of Wisconsin