Welcome to the new bdo.com
Where innovation meets usability
Innovative, personalized, interactive, and now live.
Our new website is here and designed for you.
We are excited to announce the launch of our new website, which has been designed with the user in mind. Our innovative features include personalized recommendations, interactive elements, and opportunities to connect throughout to ensure that you have the best possible experience while visiting our site. Whether you're a first-time visitor or engage often, we hope you find the new bdo.com easy to navigate and full of useful information.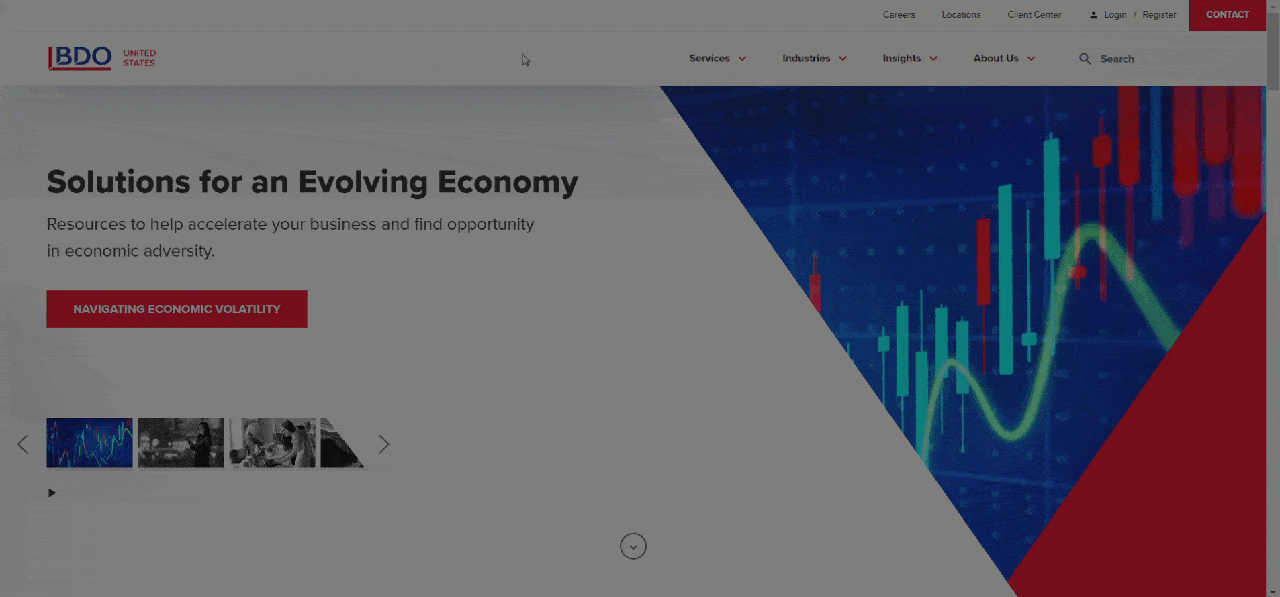 Navigate with Ease
Our modern design, intuitive navigation and enhanced onsite search make it easy to find and access what you need quickly. Our incorporation of accessibility and user experience best practices help ensure our website is inclusive, meaningful, and relevant for all visitors.
Additionally, we've incorporated options to connect with BDO professionals throughout the site, to learn more, apply for an opening or ask a question. And, whether you're on a desktop or mobile device, you can enjoy a seamless browsing experience.
Insights Designed to Help You
At BDO, we understand the importance of staying informed and ahead of the curve in the ever-changing business landscape. That's why we offer a wealth of insights on the issues that matter most to you. Our insights include the latest research, articles, and reports on the changes that matter most for navigating the challenges and opportunities ahead. Additionally, we regularly host events and webinars featuring experienced industry professionals to provide further opportunities for learning and growth.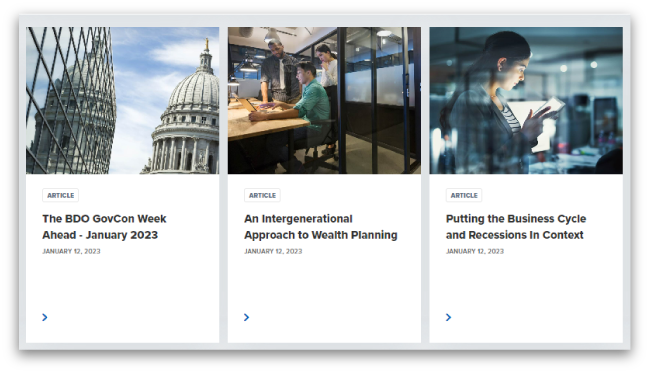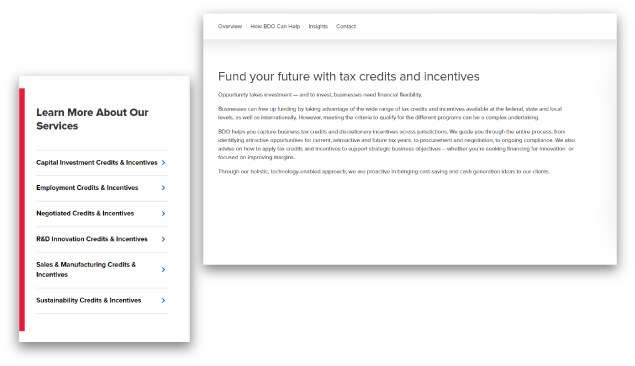 Achieving Your Business Goals: Our Tailored Services
Our services provide an in-depth look at how we can help your business. Whether you're looking to improve efficiency, reduce costs, or navigate the ever-changing business landscape, we take a personalized approach, developing customized solutions that are focused on your specific business outcomes.
Case studies throughout the site, demonstrate how we've helped others with similar challenges and the value and impact for our clients resulting from our work together. We invite you to explore our services and discover how we can help.
Focused on Delivering Exceptional and Sustainable Outcomes — for our People, our Communities and our Clients
At BDO, we believe that putting people first and being purpose-driven are the key ingredients for long-term success. That's why we've focused on sharing stories throughout the site with a dedicated section focused on real-life stories from exceptional individuals and BDO professionals who are are not only thriving at BDO, but also helping others thrive. We invite you to take a moment to meet our team and hear their inspiring stories.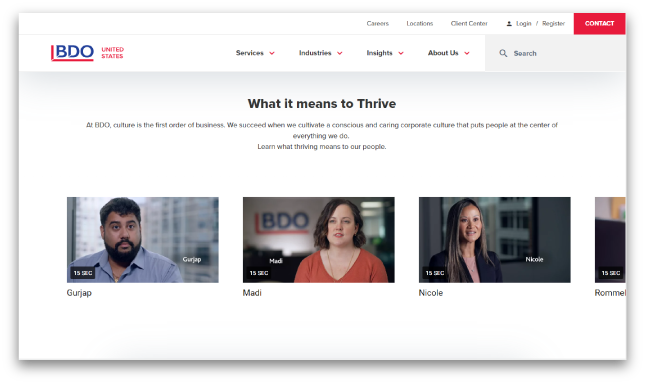 Your Feedback Is Important to Us
Please take a moment to share your feedback with us so we can improve your site experience.