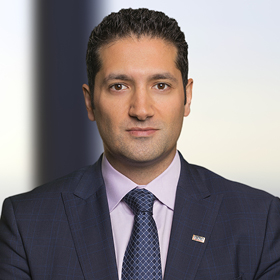 Ayoub Sunna
Assurance Market Leader
CPA
Executive Summary
Ayoub Sunna is the San Jose Market Leader in BDO's Assurance practice. He has approximately 20 years of experience in public accounting and has extensive knowledge in serving publicly traded and privately held companies in the life sciences, high technology, and healthcare sectors. Ayoub is a member of the Technology and Life Sciences industry groups.

His responsibilities include on-site supervision and review of audit engagements to ensure they are prepared in accordance with professional and firm standards. Ayoub is also actively involved with international accounting groups and works closely with executives and Board members for his clients.

Ayoub's experience is focused on audits of Securities and Exchange Commission (SEC) reporting companies, business combinations, complex equity and debt instruments, revenue recognition, complex financing transactions, and evaluations of internal control structures. He has assisted clients with initial public offerings (IPOs), secondary offerings, and private placements of debt and equity.

Ayoub has also served as a national instructor for a Big Four firm and as a faculty member of a university. Prior to joining BDO, Ayoub was a member of the SEC practice group at a national accounting firm, which he joined after he spent several years in the assurance practice at a Big Four firm.
American Institute of Certified Public Accountants
California Society of Certified Public Accountants
Hawaii CPA
M.Acc., Brigham Young University
B.S., Accounting, Brigham Young University