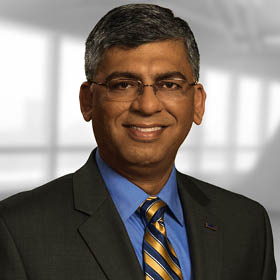 Aftab Jamil
Assurance Partner
CPA, FCA
Executive Summary
Aftab Jamil has more than 28 years of experience in public accounting. He has substantial experience in serving medical device, life sciences and technology sectors. Aftab has served public and private companies ranging from start-up, development stage enterprises to established multinational companies.

Aftab has experience with SEC reporting, mergers and acquisitions, international operations and strategic partnerships. He has participated in the preparation of numerous IPOs and secondary public equity and debt registration statement filings as well as on-going Securities and Exchange Commission reporting.

Aftab has also spent substantial time assisting publicly held clients and their audit committees in understanding, evaluating, and implementing the Sarbanes-Oxley Act (including preparations for reporting on internal controls under Section 404). In addition, Aftab has been a key contributor in multiple publications and "Thought Leadership" projects on related topics. He has also written articles on emerging accounting and financial reporting issues. Prior to joining BDO, Aftab was a partner in the Technology and Biotech Practice of a Big Four accounting firm.
American Institute of Certified Public Accountants
Institute of Chartered Accountants in England and Wales
International Diploma, Accounting Studies, Oxford Brooks University
Bachelor of Commerce, Punjab University
Association for Corporate Growth Silicon Valley, Board Member
Silicon Valley Directors' Exchange, Board Member
Various Educational and Community Organizations, Advisory Board Member