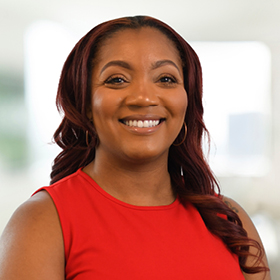 Jenn Barton
People & Culture Recruiter
Executive Summary
Jenn received a bachelor's degree in history from the University of Texas at Arlington. Her interview advice is: "Be your authentic self; highlight your transferable skills; and always ask questions to gain an understanding of how your values align with the firm's values."
Get to know Jenn
What do you do in your free time?
Family is extremely important to me. I cherish the moments I get to share with my son and enjoy hosting dinners to stay connected with my family.
What is your favorite food?
Tex Mex! I have a weekly tradition of cooking a homemade Mexican dish on Tuesdays and taking the family out to a Mexican restaurant on Thursdays.
What's the best concert you've seen?
Queen Beyoncé!
What does thriving mean to you?
Thriving means always being at my best.
People who know good people, know BDO.