BDO Alliance USA Member Spotlight – Rob Gunther, Frost, PLLC
BDO Alliance USA Member Spotlight – Rob Gunther, Frost, PLLC
BDO Alliance USA is among the industry's largest associations of accounting and professional services firms. In more than 850 locations throughout the U.S., member firms are fully autonomous, united in mindset, caliber of service, and spirit of collaboration. In this series, we introduce you to Alliance Member leaders who are making a difference in their firms.

Meet Rob Gunther, Managing Partner of Frost, PLLC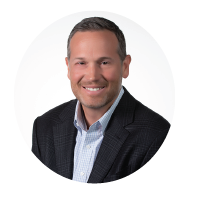 Headquartered in Little Rock, Ark., with satellite offices in Arizona, Florida, North Carolina and Colorado, Frost, PLLC joined the BDO Alliance USA in 2016 and is nearing its 50th anniversary in business. Rob Gunther joined Frost in 2001 as an auditor and was just recently appointed to the Managing Partner role in May 2021. His career at Frost eventually led him to transfer to the tax department, where he quickly got involved in the firm's Agriculture and Food Processing niche and is now a recognized leader in that industry.

Frost, PLLC has its roots in Arkansas, where it began by serving the poultry industry. That niche has grown into a nationwide practice that now includes all varieties of agriculture and food processing, including chickens, eggs, turkeys, hogs, cattle, leafy greens and dairy. They are fortunate to have specialized professionals at every level on their team to address their clients' accounting needs, coast to coast.

Did you have a mentor growing up?
My parents have always been, and continue to be, my mentors; they are my anchors. My dad was a fireman in Little Rock for over 40 years, and my mom has been by his side for 46 years strong. They always know what to do and how to handle what life throws at them.

Professionally, there was a time in 2008 when Doug Richardson, the previous Managing Partner of Frost, invited me to speak at the U.S. Poultry and Egg Management conference. I had been introverted throughout high school, college and at the beginning of my career, so I remember feeling intimidated by the request, but agreed to speak. It was a pivotal moment in my career where I soon learned that, when you're knowledgeable on a topic, those presentations are more like talking to a bunch of friends. Since then, I've developed lifelong relationships and friendships with colleagues throughout the industry.

How did you decide to major in accounting?
When I was young, my dad taught me how to balance the family checkbook. From then on, I took on the role of paying the family bills and continued to learn about finance from him each month. You could say I had an early start to my accounting career! I eventually attended the University of Arkansas at Little Rock, where I earned both my bachelor's and master's degrees.

Give us a glimpse into what the firm culture is like at Frost.
We have a very strong culture at Frost; we're a close-knit group who really cares about our staff and clients. Like many, it was tough to navigate that work-life balance during the pandemic, but we feel like we made great strides. In our firm, we have an Executive Committee that manages our practice. I previously served on that committee as the firm's Treasurer and continue, now, as Chairman.

With the transition to Managing Partner, have you been trying to transition your book of business?
That's a work in progress! I'm actively trying to reallocate some of my current client load, but it's difficult when you've built such strong relationships. We have a great group of leaders and emerging leaders at our firm, which I hope to start transitioning some of that work to in the near future.

What steps are you taking to develop in your new role as Managing Partner?
I continuously work on developing relationships with all our leaders and have traveled to our offices to further those connections in person. I'm really looking forward to our 2022 annual firm meeting, where we plan to gather in person vs. the virtual setting of the last two years. Our goal this year is to focus on our employees with an emphasis on personal development and community service.

Does Frost participate in community service activities firmwide?
Yes, and we're proud of that. Given our niche in the agriculture and food processing industry, we feel a particularly close connection to food banks. We are connected to them nationally and help to organize events that engage our employees. On a personal level, my family is also active in serving one of our local Little Rock organizations called "Our House." It empowers homeless and near-homeless families and individuals to succeed in the workforce, at school, and in life through numerous programs. We are also involved in Boy Scouts of America and our local church.

Tell us about your family.
I am currently engaged and looking forward to marrying my fiancé in June 2023. I also have three boys, ages 17, 13 and 9. They are involved in many activities, including sports and Boy Scouts/Cub Scouts. We have a tradition that when they turn 16, I take them on a trip to any location they choose. So, to kick it off, my oldest son and I have a trip to Japan planned for this summer.

I love traveling too, and have spent time in Paris, Munich and Prague, among other countries in Europe. As a family, we spend a lot of time at the lake in the summer and enjoy hanging out with family and friends.

What would you like to share about your experience in the BDO Alliance USA?
I experienced my first BDO Alliance Managing Partner Roundtable meeting in February; it was excellent. I have also previously been involved in the Emerging Leaders Roundtables, and, as a firm, we're planning on sending some of our team members to participate in that leadership track at the 2022 Alliance Conference. One of the most valued benefits we receive, however, from the BDO Alliance USA is access to BDO's international resources. Frost doesn't always have all the resources some of our clients need, but with BDO's help, we feel we have everything covered.