Market Commentary - Q3 2021
Market Commentary - Q3 2021
Stocks across the board finished in negative territory for the month of September. This ended the S&P 500 Index's streak of consecutive monthly gains at seven — its 20th longest stretch of positive monthly returns since 1925. The S&P 500 broke another streak in September: The index saw its first decline of at least 5% in 211 trading days, its 13th longest such run on record. Despite September weakness, the S&P 500 ended the quarter in positive territory on a market-cap-weighted basis. Most other indices ended the quarter in negative territory (see table below).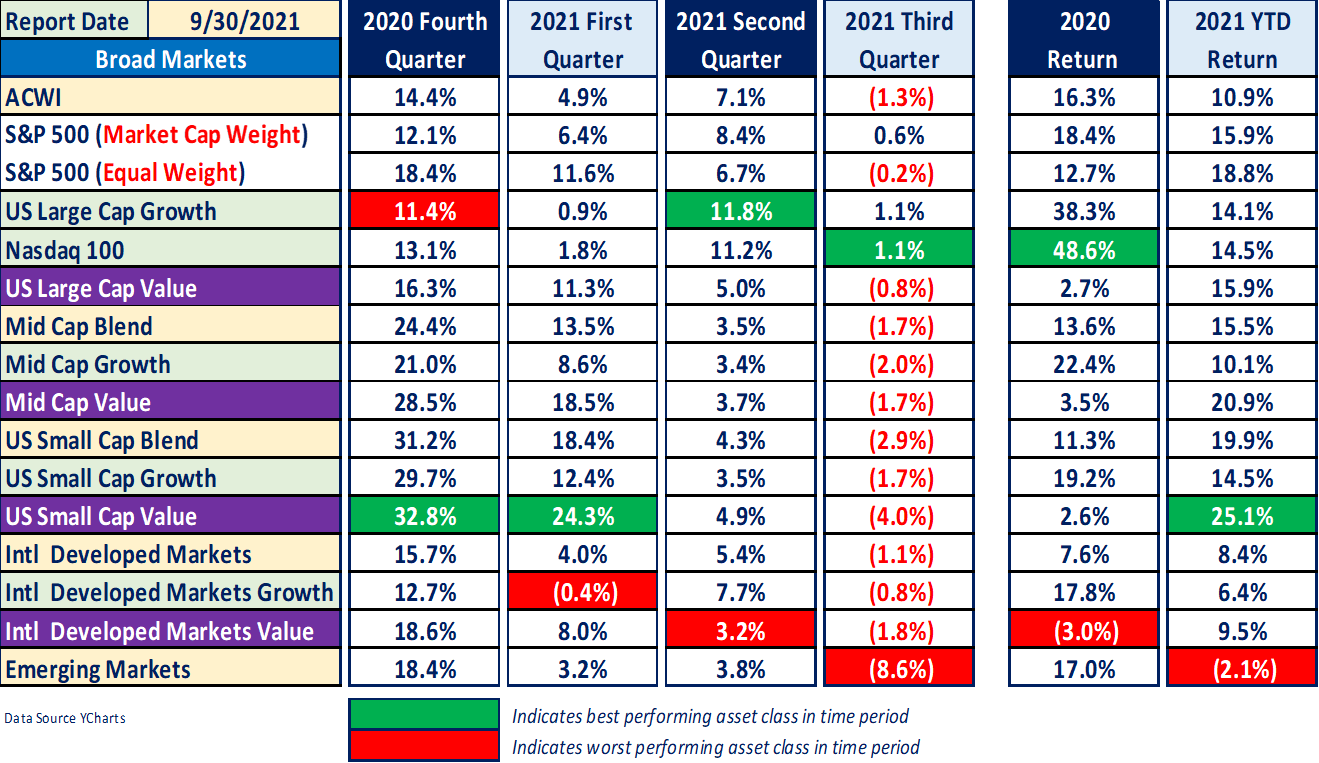 Bonds managed a small gain in the third quarter despite interest rates moving higher in September. High yield bonds performed well versus higher-quality bonds. Commodities were the big winner during the third quarter, as the Bloomberg Commodity Index was up 6.6%.
Headline News Risk
The third quarter featured a seemingly endless parade of negative headlines. These included news about the Delta variant of COVID-19, inflation that appears to be less transitory than expected, debt ceiling challenges, Chinese real estate and debt issues, Federal Reserve discussions of tapering asset purchases, potential tax increases, supply chain disruptions, and economic slowdown concerns. As always, we encourage our clients to look beyond sensationalist headlines and focus on how these events may influence the direction of interest rates and global markets more broadly.

Interest rates affect virtually every asset class. Some investments do well in a rising interest rate environment; others do not. For example, bank stocks tend to respond well to rising rates, while real estate stocks can be negatively affected. Bonds are also very sensitive to changes in interest rates — some bonds more than others. Trying to guess which direction interest rates will move, as well as when and how quickly they will change, are especially challenging tasks.
Diverging Performance (Notably, US vs. International Equities)
A common argument is that stock portfolios should be globally diversified to provide exposure to a wider array of risk factors and improve long-term risk-adjusted returns. However, since the Great Financial Crisis, stocks in international economies (whether developed or emerging) have strongly underperformed US stocks. Stated another way, portfolios favoring US stocks have meaningfully outperformed those that are more geographically diversified. This trend has continued in 2021, as US stocks have once again outperformed international stocks (see the rightmost column of the table below).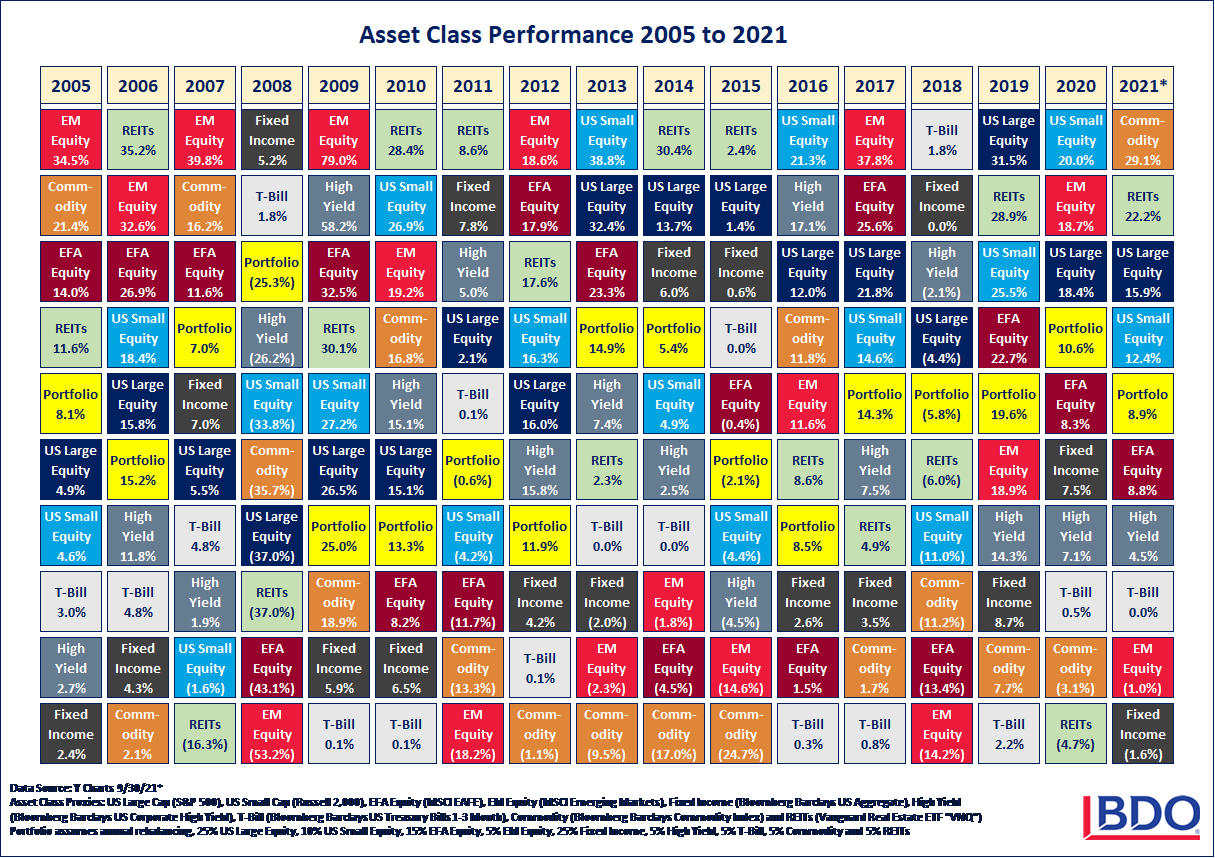 The benefits of global diversification are more apparent over the long term. The graphic above shows calendar year returns of various sub-asset classes for the past 15 years. The yellow box represents a combined portfolio of these sub-asset classes. Notice how the yellow box consistently places toward the middle of the table. Graphically, this illustrates how using multiple asset classes with differing sensitivities to risk factors can build a portfolio with a smoother risk and return stream.
Don't Give Up on International Investments
Performance of international versus domestic stocks has historically moved in long-term cycles, which typically last 6–8 years. Currently, US stocks have experienced the longest stretch of outperformance since 1975. The current cycle kicked off after international investments consistently outperformed US investments for nine years starting in 2000 and ending during the Great Financial Crisis of 2008–2009 (see graphic below).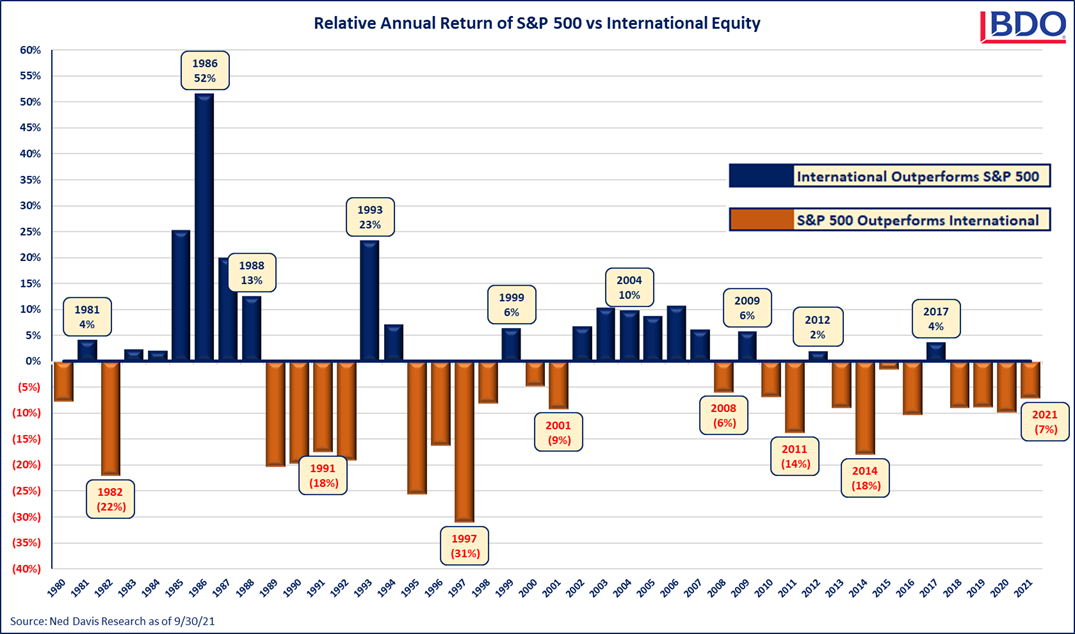 Interest Rates as a Potential Catalyst
There are several reasons why US stocks have outperformed international stocks coming out of the financial crisis. One notable reason: US stock indexes have a much higher weighting of technology- and growth-oriented stocks relative to international indexes. This really started to impact the divergence of returns over the last six years when technology stocks meaningfully outperformed the rest of the market. Coincidentally, this is the same reason US stocks outperformed international stocks in the latter half of the 1990s (see the graph above).

However, over the past year, technology stocks have been negatively correlated with interest rates. When interest rates have risen, technology stocks generally have underperformed the rest of the market; when interest rates have dropped, tech stocks have outperformed. If global interest rates continue to rise as more and more vaccinations are distributed throughout the world and pandemic restrictions ease, international stocks could begin to outperform due in part to their more limited technology exposure.

Another reason that global stocks may outperform US stocks going forward is that they appear much less expensive relative to US stocks across several valuation metrics. As shown in the table below, US stocks have the highest price/earnings, price/book, and price/cash flow multiples relative to emerging markets, Europe, China, and Japan. (As a reminder, when it comes to valuation multiples, a higher number is indicative of a more expensive stock market.)
Keep in mind that valuations generally aren't great indicators of short-term timing. For long-term investors, however, valuations have historically played a pivotal role in longer-term return differentials (i.e., over 7+ years).
Investment Strategy
Stocks:
We remain constructive on stocks over the intermediate term. Currently, stocks are in a period of seasonal weakness. Market technicals such as market breadth suggest patience when deploying new assets. As we move from a period of seasonal weakness toward the end of the year, we believe that any major corrections will be short-lived due to bullish macroeconomic indicators (e.g., substantial liquidity, generous fiscal policy, and strong household balance sheets). For patient investors following a long-term plan — which is BDO Wealth Advisors' approach with our clients — we believe volatility will simply create opportunity.

Over the next several months, investors should have a clearer understanding of the severity of global supply chain disruptions and the impact of wage increases on the economy. How these issues are affecting corporate profits should become more evident perhaps as early as this quarter, as companies report third quarter 2021 earnings and issue guidance for future earnings growth. Consensus analyst estimates expect companies to continue delivering solid earnings growth through the first quarter of 2022. We are monitoring economic conditions as well as earnings expectations for any developments that could alter the direction of the economy and the markets. For now, we remain in a bull market until proven otherwise.
Bonds
As discussed in the commentary above, trying to predict the timing and extent of interest rate moves is an extremely difficult task. Our positioning in bond portfolios is one that favors safety from a rising interest rate environment. We remain focused on short- to intermediate-term bonds with a strong tilt toward high-quality corporate bonds.
Final Thoughts
As we finish the markets' most challenging month since March 2020, we would like to remind our clients that investing is a long-term, process-driven endeavor. Investment news is typically dominated by negative, attention-seeking headlines. While the third quarter of 2021 provided a multitude of concerns, we believe patience, fortitude, and discipline are the primary forces that drive investment success. Rather than letting sensationalist headlines distract us, we are focused on interpreting and understanding global economic conditions and corporate earnings reports to guide us over the months ahead.

We thank you for the opportunity to serve you and your families and we look forward to speaking with you in the weeks and months ahead. Please feel free to reach out with any questions.
---